Battles
Battles are how you capture territory from other players. They require some strategic thinking if you want to win the majority of them. You can win more battles if you are careful to pick those with the best odds.
How They Work
Battles are run through a randomized process of drawing scored rounds. Based on each drawn round the attacker and defender will earn a score. The one with the highest score wins the battle. Although part of the process is random, many of the battle inputs are visible before the start, giving the attacker strategic insight into their odds.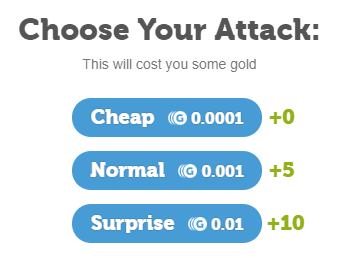 Territory Strength (defender)
A big factor affecting the outcome of a battle is the strength of the territory. The defender gets +20 score for territory that is at full strength, but +0 for completely weak territory. You should therefor focus your attacks on weak territory to improve your chances of winning. To improve your defence you should regularly strengthen your weak territory.
Element Of Surprise (Attacker)
The attacker will get +0 to +15 score depending on the type of attack they choose.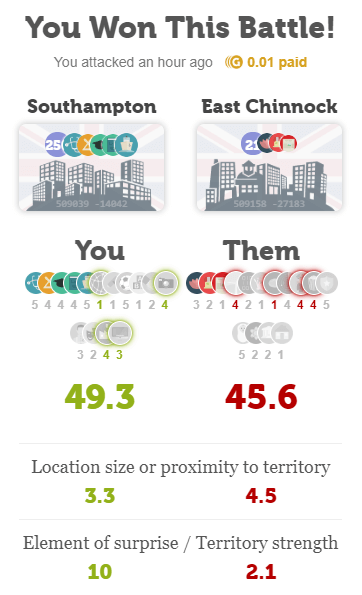 Fatigue (Both)
Every time you do a battle you become fatigued. This fatigue subtracts 3 from your next battle, but this penalty gradually decreases over the next 60 mins. It does accumulate though, so doing two battles back-to-back will penalize you -6 score on your next battle and will take 120 mins to decrease. This fatigue penalty will also be added when you are defending against attacks, so be careful not to leave yourself too exposed.
Size & Proximity (Both)
Both the attacker and defender will get a score for how close they are to the territory square being attacked. If it's their home square the score will be +5, but if it's further away it will diminish. The rate it diminishes depends on the size of the location. The way to think of this is that bigger cities can 'project power' to territory further away from their home square than smaller locations can.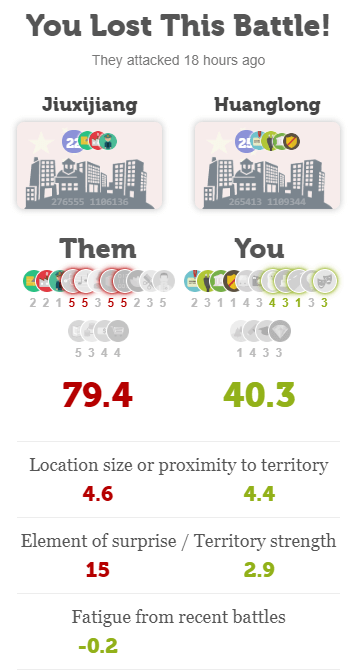 Random Feature Rounds
The random part of the score is generated using random feature rounds. Rounds are randomly selected in turn for both the attacker and defender. Depending on the feature that is selected the round will score +3 to +15. The locations features are used for this purpose, but are 'topped up' randomly with other features.
Country Bonus
If the attacker or defender owns the country that the battle is being fought in then they will receive a +2 bonus in the battle.
Big Cities
Big cities with many level 5 features will experience slightly higher odds of winning (between 0% and 5% depending on the starting score).
Your Odds
If the above sounds complicated, just know that the higher your starting score going into a battle the better your odds. If you pick your battles carefully you can feasibly win 80% of your battles over the long-run.
winning odds
+0.0 50.0%
+2.5 55.0%
+5.0 64.5%
+7.5 73.0%
+10.0 80.5%
+12.5 86.7%
+15.0 89.0%
+17.5 91.4%
+20.0 94.7%